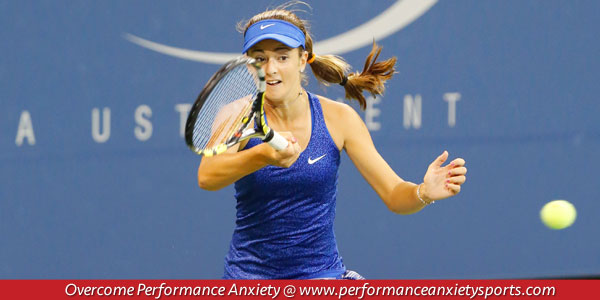 Do You Have Pregame Jitters or Anxiety?
Do you ever get extremely anxious prior to a competition?
Every athlete experiences some pregame jitters–if you don't then performing does not excite you.
Many athletes label those jitters as excitement or edginess that, very often, vault an athlete to play optimally.
Some athletes experience real performance anxiety and not pregame jitters. They have fear or anxiety that negatively affects their ability to perform to their potential.
A few of these athletes may withdraw from the competition altogether.
While a certain amount of excitement can propel an athlete to perform better, performance anxiety can be debilitating.
Athletes that experience performance anxiety report symptoms such as:
Feeling apprehensive
Feeling fearful of competing
Having a sense of panic
Having an increased heart rate
Breathing rapidly
Sweating
Trembling
Feeling weak
Having an upset stomach
What causes performance anxiety?
Performance anxiety is usually the result of an athlete's thoughts and feelings about the future or outcomes of a competition.
Anxiety-producing outcomes can be: the thought of losing, the possibility of injury, fear of failing, fear of making mistakes, feeling less than other athletes, fear of letting down parents, teammates and coaches, or feeling "not good enough" as an athlete or person.
High level of sports performance anxiety can be a performance killer by interfering with decision making, hurting your focus, creating negative expectations, and allowing your negative thoughts to spiral out of control.
Why do some athletes perform despite being nervous or anxious?
Self-confidence is the number one factor that helps athletes thrive and respond positively despite those "nerves" during athletic performances.
Confident athletes interpret that jittery or pregame nerves as excitement rather than anxiety.
When an athlete is confident, it tends to push worry to the side and frees up the athlete to focus on their performance instead of bad outcomes.
When you put more energy into competing, instead of worrying, you perform at your peak.
Tips on how can you manage anxiety during athletic competitions:
There are a several strategies to help manage anxiety and enable you to perform efficiently and optimally.
Imagery – Imagining an event prior to the event can help relieve anxiety by pre-experiencing the competition. The more experience you have with an event helps lessen that nervous feeling. You can also see yourself competing well despite feeling nervous.
Understanding the fear – Once you know the ultimate fear, such as fear of disappointing teammates, you can attack it head on.
Re-interpreting the event – By viewing nervousness as a sign that you are psyched up as opposed to freaking out, you can use that nervous feeling to your advantage.
Distraction – Listening to music, singing, joking around, talking to teammates, etc. can provide a distraction from the symptoms you are experiencing.
Practicing under stressful conditions – By preparing and practicing under pressure situations, you can acclimate your mind to perform under stress.
One of the best ways to overcome severe anxiety is to enlist the help of a mental coach. Many athletes seek the help of private coaches, strength coaches and nutritionists to add performance. Mental coaches can help you manage performance anxiety and fear of failure.