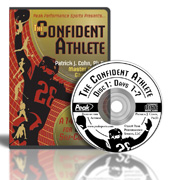 The Confident Athlete CD and Workbook Series
For high school and elite athletes. Includes The Confident Athlete, The Focused Athlete, The Composed Athlete, The Fearless Athlete, and The Relaxed Athlete
"A Cutting-Edge Workbook and CD Series Designed to Boost Confidence, Focus, & Composure To Reach Your Peak!"
Dr. Patrick Cohn Shares All His Performance-Boosting Methods in His Unique CD/Workbook Series. Perfect For Any Athlete, Coach, or Sports Parent!
READ MORE ABOUT THE CONFIDENT ATHLETE SERIES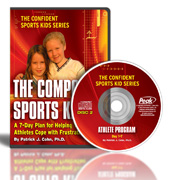 The Confident Sports Kid CD and Workbook Series
For Athletes Ages 6-13. Includes the Confident Sports Kid and The Composed Sports Kid
Based on the popular Confident Athlete CD and Workbook series, Dr. Cohn and Lisa Cohn help parents and coaches of young athletes improve mental game skills in a easy-to-learn and simple but powerful format for sports kids.