T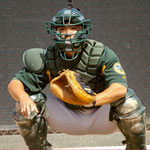 hank you for enrolling in my free stop choking video course: How to Overcome Performance Anxiety and Stop Choking.
We just sent you a link to start your free video course. Please check your email now!
If you do not receive the email, please try again or check your spam. Please confirm your email so we can send you new tips.
Thanks,
Patrick Cohn, Ph.D.
Master Mental Game Coach
p.s. Get expert mental game coaching for sports performance anxiety with Peak Performance Sports!