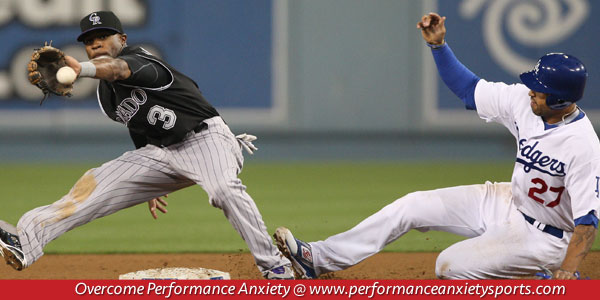 How to Be a Clutch Performer
How do you perform when the game is on the line and you feel pressure to perform? Are you able to rise to the occasion and perform optimally in the clutch or do you become overwhelmed and choke under pressure? A clutch performance is essentially the opposite of choking.  Being clutch in sports means the athlete is able to perform in pressure situations, even slightly exceeding their normal play.  There is one thing that being clutch and choking have in common.  Being clutch and choking both occur as a response to the perception of pressure.  In essence, being clutch and choking are different responses to pressure.
Carlos Beltran, outfielder for the St. Louis Cardinals, is definitely an athlete that performs well in the clutch.  In 16 seasons, Beltran has a batting average of .283, a slugging percentage of .496 and has an OPS (On-Base + Slugging Percentages) of .854.  In 150 postseason at-bats, Beltran has a batting average of .340, a slugging percentage of .740 and an OPS of 1.188.  He has hit 16 post season homeruns which is one homerun for every 9.375 at-bats!
In game one of the 2013 NLCS against the Los Angeles Dodgers, Carlos Beltran displayed his clutch ability by hitting a walk off single in the 13th inning to secure the victory for the Cardinals 3-2. Beltran also drove in the first two runs in the third inning to tie the game, 2-2.  Beltran also delivered defensively as he threw out Mark Ellis at the plate who was tagging on a sacrifice fly keeping the game tied in the 10th inning.
Beltran stated he maintains his same approach despite the situation. "I try not to keep up with the numbers, because when you try to keep up with the numbers, you could get caught out there, trying to do a lot of bad things… trying to look for homers, and trying to change your approach."
Being clutch or choking… it's a matter of perspective. If you view pressure situations as opportunities to grow your athletic ability and succeed, you'll strive for excellence instead of fear failure. In clutch situations, you want to feel "excited" and your body will physiologically prepare itself to perform optimally. Alternatively, if you approach pressure situations with apprehension and fear, you focus too much on avoiding failure and thus play more tentatively.  You will become anxious and your body will over control your performance and thus not perform freely.
How to become "CLUTCH"
Trust your abilities and play "your game."
View "pressure" as a challenge, a means to take your game to the next level.
Re-interpret the butterflies you feel as "excitement."
Learn how to calm yourself quickly if your emotion becomes too intense.
Seek challenges in practice by creating imagined scenarios where the game is on the line while maintaining a consistent approach to your game, "It's just another play."
Sign Up For a Free Mental Toughness Report!