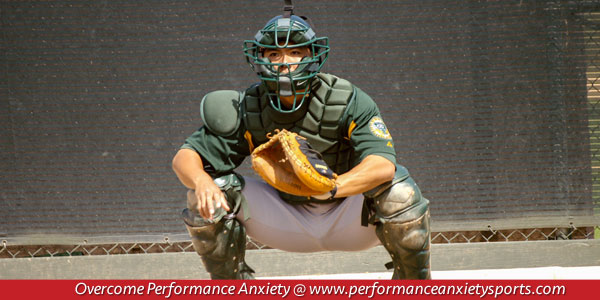 Do You Choke Under Pressure?
What does it mean in sports psychology terms when I talk about "nerves" in sport?  If we use the term, "nerves of steel," we are referring to a mindset: the courage that enables athletes to perform in the face of danger, difficulty or fear.  Some athletes who excel in critical situations become highly touted for their ability to steady their "nerves" in the heat of battle.  These athletes often attain heroic and mythical status (i.e. Michael Jordan, Joe Montana, Mariano Rivera).  We believe these athletes possess some unique inner characteristic that causes them to deal with performance anxiety and thrive during pressure-packed games.
When referring to the term "bundle of nerves," this describes those athletes who choke under pressure.  These athletes can't handle performance anxiety and thus falter for a number of reasons: trying to do too much, over-thinking, fear of failing, or becoming overwhelmed with anxiety.
In biology, "nerves" are defined as the pathways that control movement and feeling by carrying messages between the brain and other parts of the body.  The important aspect of this definition is the communication link between the brain and the body.  In essence, the mind affects the body and the body affects the mind.
"Nerves" seemed to have distracted pitcher Johnny Cueto of the Cincinnati Reds and dramatically affected his performance as they competed in a one-game play-off against the Pittsburgh Pirates.  After Cueto gave up a solo home run to Marlon Byrd in the second inning, the Pirate fans began chanting "Cue-to… Cue-to… Cue-to."  Despite being early in the game and only down 1-0, Cueto appeared rattled.
Two batters later, while facing Russell Martin, the chanting seemed to affect Cueto. While looking in toward home plate for a sign from the catcher, Cueto dropped the ball and needed to walk off the mound to retrieve it.  The next pitch, Martin drove the ball over the left-center wall for a homerun increasing the Pirates lead 2-0.  The Pirates went on to win the game, 6-2, and eliminate the Reds from the playoffs.
Opposing catcher, Russell Martin suggested that the fans took Cueto a little out of his game, "I don't know what was going on in his mind, in his head at that point… definitely felt like the crowd had an impact on his psyche a little bit. Kind of lost rhythm for a little bit."  Even Reds manager, Dusty Baker noticed Cueto was off his game, "He couldn't get the ball where he wanted.  Usually he can throw that ball through the eye of a needle. Tonight he was up."
The difference between "nerves of steel" and a "bundle of nerves" is up for interpretation.  Everyone has some level of emotion during a competition.  If you perceive that emotion as excitement, you are more apt to focus on your game and the things you need to do to perform well.  If you view that emotion as "nerves" or anxiety, you will fear making mistakes causing your muscles to tighten and negatively affect your performance.  Remember, how you interpret your emotions will greatly affect your mind, body and performance.
Sign Up For a Free Mental Toughness Report!