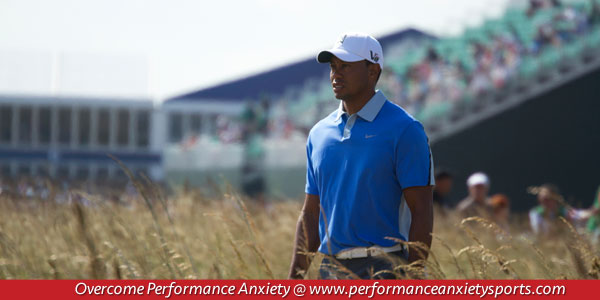 Golfers Who Choke Under Pressure
No golfer wants to choke during a tournament. Golfers fear that dirty five-letter word. Choking is not only painful for the person choking, but it's also hard to watch players collapse at the end of a tournament. Do you remember Rory McIlroy in the 2011 Masters? He had a four stroke lead going into the final round and he shot an 80 to finish 15th? What goes through the mind of a golfer who's choking? Is he afraid of blowing a lead? Is there some fear of embarrassment? Does he think too far ahead?
Here's another example… Two years ago Jason Dufner held a four shot lead in the PGA Championship with only four holes left to play. For those watching, Dufner had it in the bag. The only one who could stop him now was himself, and that is exactly what happened. Those four holes proved to be too much for the almost PGA Champion leaving him with a second place finish and the title of "Runner Up". However, this performance collapse from two years ago would not define Jason Dufner, nor would it stop him.
Dufner understood that he cracked under the pressure of the 2011 PGA Championships. When asked what he was thinking about during those defining four holes Dufner stated, "You're thinking about winning this thing. I've still had a chance to win the golf tournament and anything can happen on those three holes. I was still thinking on 18, if I can get a birdie and maybe he can miss one, we can flip-flop in that situation. I didn't feel at any moment was I out of it until he putted to a foot and a half."
Dufner's mind was clearly racing and focused on what really didn't matter; he was focused on uncontrollable outcomes and scenarios. The task at hand was far from his mind, thus resulting in his 2011 title, "Runner up.
Although disappointed in 2011, Dufner did gain some valuable insight through this tough experience. He stated, "I'm disappointed now, but there's a lot of good things to take from this week. You know, I've got the rest of the Playoffs this week, this year, and I believe this gets me into all of the majors next year so that's a good opportunity to try to win more majors… I just play golf. I love playing golf. I love the competition. And I want to be as good as I can be. If that's 20th in the world with no majors, or first in the world with ten majors, or never to win a Tour event, I'll be fine with it".
Now, two years later Jason Dufner has proven to himself and to the world that he has learned from his past choke in the PGA. He has learned to focus on the present moment and play his game through to the end.
Dufner took control of his 2013 performance. He focused on what he could control. When asked about his winning performance this year, Dufer stated, "I know what to expect from the golf course setup, and I know what to expect from how the guys are going to react to the pressure and how I'm going to react to the pressure. I was just confident that I was going to put my best foot forward and just really hang in there and try to win this thing at the end."
Dufner was a victor in his own mind and as a result he is also a victor to the world. "I felt really comfortable, really calm and felt like that I could do it. Felt like I could give myself a chance and pull this out."