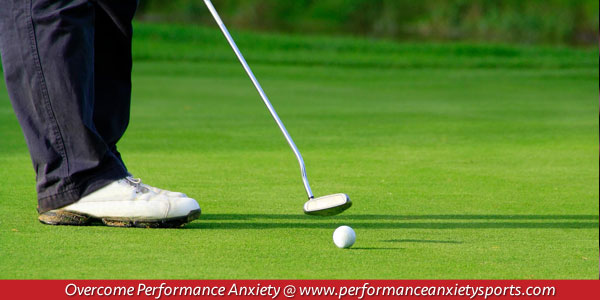 Pressure in Sports
Did Ernie Els choke on the final holes of the 2012 Transitions Championship? Allow me to set up the scenario. With three holes remaining in the tournament, he was one shot ahead of the field. If he shoots par, emphasize IF, on the final three holes he wins the tournament. But one poor shot on hole 17 and a couple missed clutch putts and he finishes tied for 5th.
Els missed a makeable 5-foot birdie putt on hole No. 16. And then he finished the round with two bogeys, which included missing a 4-foot par putt on number 18 that would have gotten him in the playoff. Instead he finished tied for 5th and out of the playoff. Only Els knows what really happened to him on the last two holes of the tournament. Was the pressure too much for him? For Els, it might have been too much pressure because two things were relevant: (1) winning a golf tournament and (2) he also needed the win to qualify for the 2012 Masters.
Did Ernie Els choke on the final three holes because of the pressure to qualify for the Masters or did he just miss a couple putts? Luke Donald, the eventual winner of the tournament said putting is more mental than physical. "Ernie's obviously struggled on the greens more than anything," said Donald. "Putting is very mental. Hopefully he can figure it out."
Did he miss a couple putts because of the pressure of the moment? Els said on his website after the tough finish, "But that putt on 18…well, it kind of leaves a nasty taste. It's a difficult green, but I should have made it. I was trying to jam it in there and I just pulled it, simple as that."
No PGA Tour Pro in their right mind is going to admit to choking in the final holes of the tournament. The word "choke" is a dirty five-letter word in sport, especially when it leads to failure. No one will admit to others that they choked. However, PGA Tour player Bob Tway said, "It's how you handle it. Some people handle it better. Everyone is choking, if they don't say they're choking, they are lying."
What does it mean to choke in sports? Choking is a response to perceived pressure. Choking in sports starts with a poor focus of attention. Your mind gets sidetracked from the real task. The mind races with thoughts of negative outcomes or screwing up a big lead. "What if I blow a one-shot lead?" you say to yourself. Then anxiety sets in. Your mouth gets dry, your hands sweat, your breathing becomes labored, and you feel like someone is strangling you.
Els's a professional and he approached the "letdown" with class on his website. He said he was proud of himself for getting into contention. His aim is to try to win every time he tees it up. "I've said throughout my career that whenever I tee it up I always play to win," Els said.
Trying to focus on the positive, Els reminds us that it was the best performance on Tour he's had since 2010. "It's a tough deal, but I have to take stock and try to see the positives. This was one of my best performances on the PGA Tour since 2010. I drove the ball well, topped the greens in regulation for the week and I was right up there in the number of birdies made. I made some nice putts, too. All you can do, as I said before, is keep playing well, keep putting in the work and keep putting yourself in a position to win."
Only Els knows if the pressure of the moment got to him.