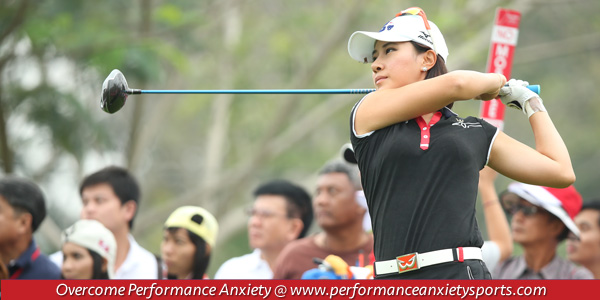 Overcoming Championship Pressure
Matt Kuchar scored his first World Golf Championship last Sunday and he made this pressure-cooker match play championship look easy for him. After Kuchar gained a 4 hole lead on the front nine, Hunter Mahan attempted a come back on the back nine but fell short at Dove Mountain. Kuchar stayed calm and overcame the Mahan's charge to win the Championship in tough conditions.
But Match play is not without pressure or anxiety for Kuchar. "Match play I find to be such an amazing, unique format, so much fun to play and so much pressure. It seems like each hole there's so much momentum riding and so much pressure on every hole," Kuchar said after the round.
But Matt Kuchar does a great job of looking in control and calm on the outside under the pressure he's feeling, just the demeanor you need for match play. Never show your opponent your cards. He looked into control on the outside the entire day despite a rally from Mahan on the back nine. How did he look so calm? "I think I was hiding in my ski cap and ski mitts and did a good job of covering up any sort of nervousness. I did a great job today of being excited to hit the next shot."
He looks like he's having fun when playing high-pressure golf. Most golfers choke under the pressure of match play. He's learned how to play in the moment and not get caught up in results or what it means to win the tournament. "So I enjoyed being out there, I had a great time, but I was also very focused on what I was doing. Match play, you can't get too far ahead of yourself. Every hole is so key that I think it keeps you a little bit more in the present, and I think that probably helped me a bit today," Kuchar said.
And if he makes mistakes or loses a hole, he's able to move on and not dwell on it. I talk about this often with my golfers. The more you dwell on a bad shot or hole, the less energy you have to play the present shot or hole. Mistakes and compound into more mistakes when you're beating yourself up for the last shot. "I think that's probably one of the good things about my golfing makeup is my memory is not great. I know most people tend to remember the bad more than they remember the good. My mental makeup, I pretty much leave the bad in the past pretty easily."
What's Kuchar's secrets to playing match play? He treats match play like stroke play. "I play match play, my game plan is to start off as much like stroke play as I can, play the golf course, forget about what the opponent is doing unless the opponent does something, either hits one to gimme length or hits one where he cannot make a par from a situation."
His strategy does not change based on what his opponent is doing. He plays the golf course and keeps golf simple. "It may change strategy a little bit. But for the most part I am playing the same, so feel pretty comfortable in just trying to play the golf course, try to hit the middle of the fairways, try to hit greens. I don't really adjust strategy unless something out of the ordinary has happened. That's the only thing I can tell you about the way I play match play," Kuchar said.