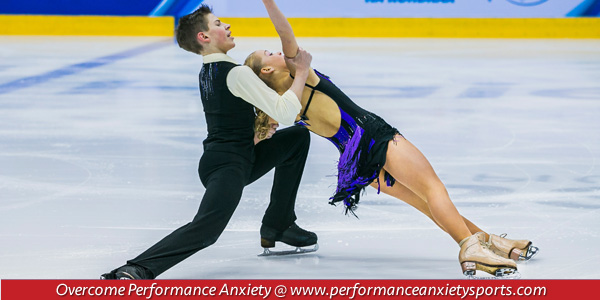 Strategies to Overcome Performance Anxiety
Do you get anxious at major competitions?  Do you become so overwhelmed at competitions that your performance is adversely affected?  Do you feel that you have little or no control over your anxiety at competitions?  Performance anxiety is a response to some perceived threat.  The threat can be physical or mental.  The perceived threat can be real or imagined.  For athletes, performance anxiety is caused by a fear of failure.  Some athletes interpret failure as evidence of their inabilities.  Performance anxiety can be have numerous causes; unfamiliar events, past mistakes or competing against tougher competition.  The good news is that if you change how you perceive performance anxiety, you can overcome it.
Christopher Jursch is a 21 year-old German gymnast who won the German junior all-around title in 2008. Jursch placed fourth on high bar and fifth on vault at the 2012 German championships; and fifth all-around, first on high bar and third on parallel bars at the 2013 German Championships. Jursch recently made his debut at the 2013 World Championships in Antwerp placing 28th on parallel bars, 55th on pommel horse and 78th on horizontal bar.
Jursch entered the meet with the perspective of learning from the new experience, "The main goal for these world championships was to learn (from them). I wanted to get accustomed to the competition process and the atmosphere, see how I could cope with being the newcomer and most importantly learn how to deal with the pressure."
Jursch reflected on what he needed to improve his future performances, "Overall it showed that I need to increase the difficulty score to be competitive. A little more stability and a higher output will be needed in order for me to make the jump into the finals or even onto the podium." Jursch understands that more exposure to higher level meets will help him to be more psychologically prepared and less anxious, "The fact is that the top athletes have much more experience at these competitions and know how to deal with these high-pressure situations."
Despite his teammate (Fabian Hambuechen) finishing third in the All-Around, Jursch remained focused on what he needs to do to improve his future performances, "I don't use someone else's success to motivate myself… Yet seeing what the others do, knowing what is still possible for me, I know that there are hardly any limits for my routines. In the end I can say that being part of the world championships has given me motivation to train even harder in the future."
Performance anxiety does not have to ruin your athletic career.
You need to realize you have a great deal of control over your level of anxiety.
You can change your perceptions about an event to manage your anxiety.
You must stay focused on the present. Understand success is a process.
You should utilize competitions as learning experience.
You must practice the way you want to compete.
You need to understand you are in charge of your destiny.
Read more Gymnastics Psychology articles here.