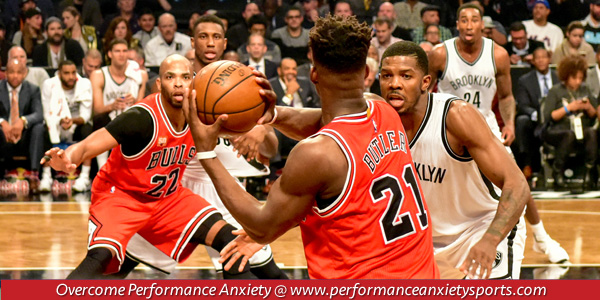 Performance Anxiety in Competition
Preparing for a championship competition can cause a lot of performance anxiety for professional and amateur athletes. Often, an athlete has prepared their entire life to perform in the big game or match, which can lead to pressure. How athletes cope with this pressure determines if they will choke or rise to the challenge. Athletes will experience some anxiety about their big performances, which is common. As an athlete gains more experience, he or she learns to handle the pressure of big games and important moments in competition.
Many athletes learn from their past experiences with sports anxiety and make the necessary changes to stay focused. Samantha Stosur, top ranked professional tennis players, uses past experience to learn how to stay relaxed and play her game.
At the Qatar Total Open Stosur said, "Yeah, I mean, like I said before, I did everything I could have to prepare for Australia, and no doubt I was very tense and got nervous and just wasn't able to play and swing freely at the ball when I was out there playing, and, you know, I really paid the price for feeling like that. Whereas this week I've tried to stay relaxed, be a lot looser. I think when I'm able to be like that, my tennis just flows… My feet move better, and everything about my tennis is just better. So no doubt, you know, that mental and the way you're feeling about your game can play a huge part in the results that you get."
You might not be able to completely eliminate anxiety about a big game or performance, but you can chose to redirect your attention to good execution instead of worrying about the outcome. Seasoned coaches and players understand that some performance anxiety is inevitable and the goal is to just focus on what you do best.
Before the 2012 BCS National Championship game, Alabama's head coach Nick Saban said that he helps his team focus on the task at hand, rather than getting swept away by any performance anxiety related to the upcoming game. "I think that the most important thing that players can do right now is just focus on the task at hand, focus on what it's going to take for them to play their best football, which I'm sure that's their goal in this game. And they've certainly made a commitment to do that. So to get caught up in sort of what's happening around them and the anxiety that can go with an opportunity like this or the pressure that comes with an opportunity like this, I would like for them to focus on the opportunity, not the pressure part, so that they really are zeroed into the mental practice and the things that when they go out there and play they're going to be confident in doing their job the way they need to do it to have success."
The reason why you practice and train hard is to play in the big game. Will you embrace the pressure or will you choke due to the pressure? The goal is for you to learn from your experience and use that to improve your success in future big games.