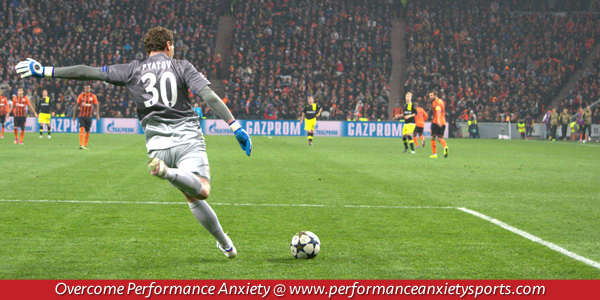 How to Stay Focused And Overcome Anxiety
Have you ever competed and suddenly were overcome by negative thoughts? You may have tried to not pay attention to the negative thoughts but no matter what, you couldn't maintain your focus on your performance? You know that a lot of thoughts that can disrupt your focus and create sports performance anxiety.
Memories of mistakes, injuries and past losses can preoccupy an athlete's mind and wreak havoc on performance. Or performance can by adversely affected when an athlete focuses on results, potential mistakes or fear of failing. Focusing on these negative thoughts will greatly increase an athlete's performance anxiety. This added sports performance anxiety from your negative thoughts will make it difficult to focus on the match, game or competition at hand.
Aksel Lund Svindal of Norway, 30, the reigning World Cup downhill and super-G champion understands the importance of focusing on the 'present moment." Svindal has had a very successful career including: eight World Championship medals, three Olympic medals, five World Cup discipline titles, and 20 World Cup races. Svindal has been dominant in the downhill and the super G events over the past two years landing on the podium in 11 of 16 World Cup speed events.
Svindal attributes his success to his ability to stay focused in the present, "Even when I was a kid, I never said, 'Oh, I'm going to be a world champion.' I never really look back, and I never look too far forward. I focus on what you can do right now, in this moment." Svindal has maintained his focus despite a horrible accident in 2007 at the Birds of Prey racecourse that nearly ended his career. Svindal crashed off the Golden Eagle jump, breaking several bones in his face, cracking ribs and sustaining deep lacerations to his abdomen and groin.
The very next year, Svindal was able to block out the memory of his crash and win the downhill at the Birds of Prey. Svindal overcame his fear of the jump that landed him in the hospital for more than three weeks.
In 2013, Svindal displayed his ability to stay focused in the present as he once again won the Downhill at the Birds of Prey racecourse despite dangerous weather conditions, "I had a good feeling about Friday's race. I wasn't sure about the top part, the way the visibility turned out and everything. I kind of had a feeling that you can't look too close at the finish line, you just have to get after it. And I thought that would be the best strategy."
Contained in Svindal's commentary are several gems regarding the mental focus of champions:
1. "You can't look too close at the finish line." You can't control the results. When you are focused on results, performance anxiety tends to increase. Focus on the process only.
2. "You just have to get after it." You need to "go for it." When you perform but you fear failing, it holds you back from performing at your maximum capacity.
3. "Focus on what you can do right now." You can only control what you do in the present. Focusing in the present allows you to perform at your highest level.
Like Svindal has said, staying in the present moment is the best way to overcome performance anxiety or fear of failure. It is very important for athletes to learn how to focus in the present moment when in a competition or a game.
Staying focused is imperative to success in sports. Check out The Focused Athlete, which helps athletes get focused and perform at their peak.