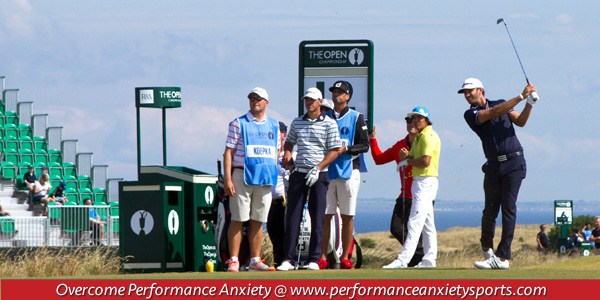 Pressure to Win in Sports
Did the US Team choke at the 2012 Ryder Cup with a four-point lead going into the final day of singles matches? Johnny Miller called it the "Big Collapse at Chicago." Okay, I know, Miller is negative anyway. But the US Team is typically solid in singles play, right? Not in this Ryder Cup of 2012.
You have to wonder if the pressure was too much for some of the young players on the Ryder Cup Team. Even the veteran Steve Stricker said the expectations were overwhelming. "There's a lot of expectations on us. We put a lot of expectations on ourselves to perform. You know, and sometimes it's good and bad. I mean, when you're going good, it's great, and when you're not, it can be a negative, because you feel like you're letting the crowd down," said Stricker.
Letting the crowd down? That's an understatement, but that's a common source of pressure for many athletes that lead to anxiety and choking in competition. Many athletes, even the top ones apparently, worry about performing for others. Athletes don't want to disappoint their teammates, coaches, or parents—even Stricker.
I'm sure team captain, Davis Love, was in shock after the loss. But he was very complementary of the team. "This is a great team, we had a great week. We played together as a team, and today we said we want to win every segment, and we got a half out of a couple of them, and we got beat badly in this one. Any time you lose a segment that badly, it's going to cost you the Ryder Cup," said Love.
Would the US Team played more aggressive if they did not have such a commanding lead going into the final segment of the 2012 Ryder Cup? You have to wonder if they sat on or protected the lead, which often happens in sports when one team gets a big lead. The leading team attempts to coast with the lead and stops playing aggressive.
It happens every day in golf. This is usually due to a comfort zone. You play great on the front nine (ahead of your expectations) and then protect your score on the back nine, which leads to making more mistakes.
However, I have to say that the European Team made some crucial putts coming down the stretch. I don't what to take anything away from their great play–even though I think the US team did not handle the pressure well and choked on the back nine when they lost momentum.
"We'll pick ourselves up, dust ourselves off, and we're resilient. As golfers you have got to be. It's the nature of the game. I've been down in some depths before that you've just got to, like I said, pick yourself up and play golf again. That's all it is, is?? we'll be disappointed for sure, but we'll all be all right," Stricker said.
You make the call. Did the US Team choke under the pressure? Did they protect the lead they had going into the last segment? Or did the European Ryder Cup Team just play great on the final day? I think all three might have lead to the collapse in Chicago.