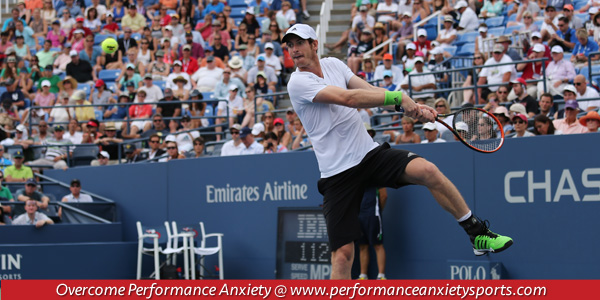 Do You Choke in Tennis Matches?
Do you "choke" during tennis matches? Are you a good practice player but under-perform at competitions? Performance anxiety can wreak havoc on an athlete mentally and interfere with your ability to perform at a high level.
Performance anxiety in sports, sometimes referred to as "choking," is stress caused by how an athlete perceives a competition, not the competition itself. Your thoughts about a match often dictate your level of performance. For this reason, many professional tennis players hire sport psychology coaches to learn mental game strategies in order to achieve more of their potential.
For example, a tennis player facing a higher ranked opponent may exaggerate the importance of the event and think, if he loses, he will never achieve a top ten ranking. The anxiety about the perceived importance of the match may cause increased muscle tension (decreasing the fluidity of movement), increased respiration (causing the player to fatigue more quickly) and negative thinking (causing catastrophic thinking and over-analyzing match play).
Stanislas Wawrinka is a 28 year-old Swiss tennis professional who is no stranger to the pressure of high-level competition. Wawrinka is currently ranked third in the world despite never having won a Grand Slam event until the 2014 Australian Open. Wawrinka entered the Open as an 8th seed, and his road to the title included victories over Novak Djokovic (2nd seed) and Tomas Berdych (7th seed). The culmination of Wawrinka's first Grand Slam victory was his defeat of Rafael Nadal (world ranked No. 1) in four sets; 6-3, 6-2, 3-6, 6-3.
Despite Wawrinka's dominant performance, he admitted to his battle with performance anxiety, " I never expect to win a Grand Slam. I never dream about that because for me, I was not good enough to beat those guys."
It was Wawrinka's coach, Magnus Norman who helped him manage his anxiety, "I talked a lot with Magnus who has been in that situation, to play a final. He told me it was important not to think about the result but think about the way you want to play, the way you want to win every point."
Wawrinka stated his key to overcoming his match anxiety was to have fun, be prepared and not to over-think, "What was important was to enjoy also, not to be too nervous, not to be too focused, to enjoy and be ready for the match."
Reducing Performance Anxiety in Tennis:
You should understand that pre-game jitters are normal and necessary to play at a high level. Misinterpreting that feeling will move an athlete from readiness to play to debilitating anxiety.
You need to have a consistent prematch routine that settles you down and prepares you for the start of the match.
You must practice mentally and physically at the level you want to perform. Preparation is a great antidote for anxiety.
You should focus on the point being played instead of the potential outcome of the match.
You should manage any fear of failure to cope with anxiety in matches. What is your biggest fear? Do you fear embarrassment? Do you worry about gain acceptance from others?
Remember that if you are aware of how performance anxiety affects your thoughts about top-level matches and your ability to perform at these matches, you can manage your emotions and elevate your level of play.
Sign Up For a Free Mental Toughness Report!